There is nothing, absolutely nothing that Jared loves more about the summer than swimming. Nothing.
And of course I couldn't help but take advantage of the wonderful sunshine, and my frolicking husband to take some photos.
My husband is a poop sometimes when I ask him to pose for pictures.
He normally consents finally though.
This is the photo that I am submitting to the Crazy Days of Summer Photo Challenge at
Project Alicia
.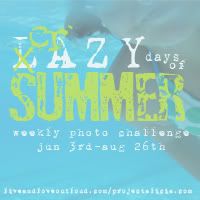 I just love it. It was an completely genuine look that Jared has when he's being a fish and launching out of the water. Everything came together in this photo and I just love it. I didn't do a lot of editing on it, just upped the clarity, contrast, and detail a little.
Also, for those that don't know I am also working on getting a photography blog put together so that you all who follow our family blog for family updates aren't bugged by all the photography updates I give. I'll post my photography blog once I'm done formatting it.
Happy summer!
~Mel